A guide to Snow parks in the 3 valleys – By Rob Bartett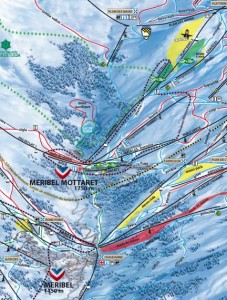 The season has flown by but as the final weeks of skiing approach there is no let up for the team out here in resort. With Easter on the horizon, the final weeks will see many kids arrive in resort on their Easter holidays.
For many this will be their first time in the mountains and their sights will be set on the huge achievement of completing their first green run. But for the older kids, who may have had a few weeks skiing before and feel comfortable on blues and reds, some of them may be on the lookout for their next challenge. Their parents may be wary, but for many that challenge could be to master their first tricks in the park.
Fortunately Meribel and the Three Valleys have several different snow parks, with routes for riders of all abilities, from wide boxes for those taking their first steps up from piste skiing, to Olympic size kickers, rails and half-pipes for experienced (and brave!) freestyle skiers. As with my recent entry about off-piste skiing, you will find that an instructor will be worth their weight in gold for both your safety and enjoyment as you take your first steps in the park.
Moon Park
The smaller of the two parks in Meribel is the Moon Park, accessed off the top of the Plan de l'homme lift from the Chaudanne. A great starting point here is the boardercross route, with the twisting run, steep banks and simple rollers allowing you to get a feel for freestyle riding.
Moving up a level, the Moon Park has a nice series of entry level boxes and small kickers, which make it the perfect place to learn your first tricks, although boarders be aware that to go straight back around when you reach the bottom it is a steep drag lift.
One or two large kickers aside, more experienced park skiers may be looking for a bigger challenge. In which case the choice is clear: head to Mottaret.
DC Park
Variously known as the Plattières park, the DC Park or Area 43, the snowpark off the top of the Plattières 1, Plan se Main and Chatelets lifts is undoubtedly the biggest and best in the Three Valleys. It has a full range of options for all riders, including entry and intermediate boxes and kickers as well as a mini half-pipe to try. But as great as trying the different modules yourself is, that's only half the fun of your time here.
That is because this is where the serious freestyle riders come to play. Start by watching them to the full-size half-pipe immediately underneath the Plattières lift station. With a steep gradient and high walls, you can see some seasoned veterans getting big air and maybe putting in a few 180s or 360s.
As you go further down, on the far right hand side you will see some huge kickers, where riders tend to favour grabs as they carry in some cases 20m or more in the air. Finally underneath the DC sign you will see the advanced rails, painted yellow and black as is fitting for some of the most difficult modules around. Watching the pros balance on their tips over these rails is an awesome sight, but you will wince if they don't quite nail that landing. Parents may want to look away, but if the kids are dreaming of thrills and excitement this holidays, look no further than a spot of freestyle skiing in the snow parks in Meribel.