My first ski holiday with children
In my last blog about our first family ski trip I wrote about how we manage to miss the flight despite staying overnight at an airport hotel. This blog continues the story of our holiday and picks up the trip after we landed in France ready for our transfer to Méribel. 
Part 2 – Guilt and Ski School
We arrived at Grenoble airport and were warmly welcomed by Alpine Action driver Eddie who my children instantly fell in love with and obsessed about during the duration of our trip. "I can't wait to get back to see Eddie at the chalet", "It's kind of Eddie to let us stay at his house", "Who are those people cooking in Eddie's kitchen?" and "Let's make a card to thank Eddie for letting us stay". How much Eddie appreciated this admiration is a question for him and how much Jack and Emily, our chalet hosts, appreciated playing Carson to Eddies Earl of Grantham we may never know.
During our trip we stayed in chalet Trios Coeurs
Ski School
Once in resort there is always some pre-ski admin to do and after the flight fiasco I wasn't expecting a successful outcome. However, getting ski hire for a 4 year old was simple, as was getting free lift passes for the children along with booking into ski school and child care. I doubt this success was down to us and the behaviour of our children so the credit should go to the wonderful resort staff that helped us along the way. As a result of my many trips to Méribel we were also spared the usual "where is my chalet" moment that we all get in a new ski resort. However my wife was determined to engineer this by repeatedly asking if I knew where I was going.
The next thing on the agenda was introducing our children to snow. The last huge snowfall in the UK was in 2009, way before my children were born, making this their first time experiencing snow. There are many things you can do with snow such as skiing, snowball fights, snowman making or even sledging. The main priority for my children during their first encounter with snow was to eat it and they were determined to sample it from as many locations as possible. Due to my children's partiality to consuming snow we spent very little time near the resort ponies.
Children's mealtimes were a success thanks to "Eddies staff" and I was surprised by the ease at which the children went to sleep. I was unsurprised at the time they woke up in the morning. I think the last time I was up before the chalet hosts was when I was one.  I also suspect that in some parts of the resort some people were only just heading back to their chalet. But why wouldn't you wake up early on a ski trip, going skiing is exciting!
Even though I had been awake since 4am, when the minibus arrived to take us to the ski school we weren't quite ready. Quite means, one child undressed with ski boots on, one child fully dressed no shoes on running around in the snow, one parent not dressed still packing children's day bag and one parent fiddling with his snowboard while wondering why no one else is ready.
Guilt
We arrived at the children's ski school 10 minutes late. A quick glance around told us that we weren't the only ones. My daughter who is 4 was going into ski school for the morning and was incredibly excited about her first time on skis. My son who isn't old enough to ski was in the creche. Prior to our holiday we had talked about going skiing, watched it on the TV and role played the holiday, which with hindsight was a bit cruel as when we dropped him off at the nursery he soon realised that he wouldn't be doing much skiing.
They say there are no friends on a powder day. Maybe there should be a saying that implies similar when referring to offspring on a ski holiday. Shortly after 9.30 am we found ourselves on the first chairlift of the day with the sun on our faces and the combined feelings of guilt and excitement. After few runs we nipped back to the nursery slopes and replaced the last few embers of guilt with pride as we saw our daughter skiing for the first time. We didn't check on the other one.
Just before lunch we returned to collect the two children for an afternoon of sledging and hot chocolate drinking. One was over the moon that she had mastered skiing and loved every second of her time. The other was less impressed and greeted us with the opening remark  "Go skiing now?".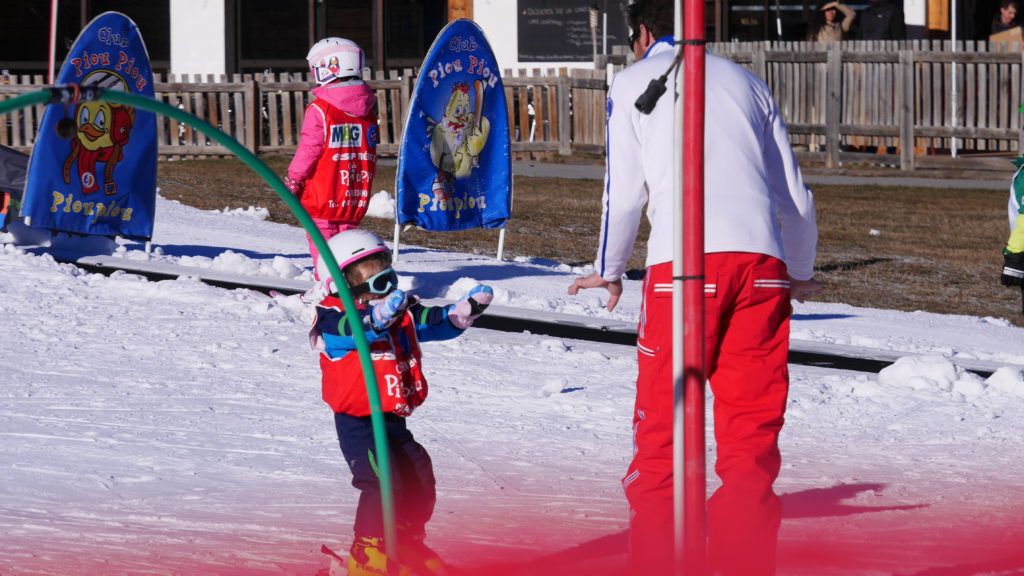 Coming up in part 3 we relieve our guilt of spending the mornings skiing by attempting to do far to much stuff as a family in the afternoon.
Keep an eye on our Facebook page and the Alpine Action blog to find out how we got on during the rest of our ski holiday. To make sure you don't miss the next instalment sign up to the Alpine Action Newsletter.