We have been feeling hot, hot, hot, in the 3 valleys this week with glorious sunshine, blues skies and warmer temperatures. Spring is finally here, driving up the mountain towards resort, spring flowers are starting to dot the landscape and with snowy peaks and sunshine what better time of year to come for a sunny ski holiday?
There are some fun events happening in resort this week, with our good old friends Magic in Motion ski school entertaining us on Wednesday. Find an action packed day of Skiing, Freestyle, music, BBQ, water slide and prizes at the top of Rhodos lift, opposite the Rhodos restaurant, to experience "Magic D Freestyle Day" at the Magic garden. On Thursday you can catch the DC pro-freestyle snowboarders as they warm up for the "DC Area 43 Hit and Run" competition on Friday – an event not to be missed you can read more about DC Area 43 on our recent Freestyle blog post.
Weather and snow forecast for the next week is promising, with sunshine today followed by the cloud moving in on Tuesday afternoon and light snow showers continuing into the weekend. Next week the cloud will clear on Wednesday leaving sunshine for the rest of the week.
Temperatures this week have lowered with highs of 5 degrees at 2000 meters and lows of -4 degrees. The coldest wind chill is forecast at -8 and freezing level is around 2000 meters.

The Meribel valley currently has a reading of 45cm of snow at resort level (1450m) and 173cm at Altitude (2700m).
The Courchevel valley currently has a reading of 99cm at resort level (1850m) and 175cm at Altitude (2700m).
Avalanche risk is 3 out of 5 today, however, with temperatures warming up off piste skiing is not recommended.
We want to keep you up to date with weekly events and happenings in the 3 valleys so here are some of the best bits to get you in the winter holiday spirit…
What's on this week in Meribel
Monday 20th
♫Live Music♫
Evolution: Mardy Johnny Depps – 10pm
Lodge Du Village: Coco and the Butterfields – 4pm
Tuesday 21st
Market day in Meribel centre.
♫Live Music♫
Jacks Bar: Daisy B – 5pm
Lodge du Village: Bring Your Sisters – 4:30pm
Evolution: Hobo Chic – 10pm
Wednesday 22nd
Magic D Freestyle Day: Magic Garden, 11am – 4pm
Yoga retreat hour: La Folie Douce – 10 -11am register at auxalpes.com
Ice Hockey at the Olympic Centre – 8:15-11pm
Lodge DU Village: Comedy Night with Marcus Briggstock – 10pm
♫Live Music♫
The Rond Point: Norman J – 5pm
Lodge du Village: Bloc off the Wall – 4:30pm
Doron Pub: Wingmen 11pm

Thursday 23rd
Himalaya by night: night sledging 5:30pm – 7:30pm Meribel Mottaret
Tobogganing and mulled wine at La Chaudanne, 4:15pm
DC Are 43 Hit and Run warm up: 11am – 4pm
♫Live Music♫
Jacks Bar: Hobo Chic – 5pm
Lodge du Village: Sian Hayley Smith – 4pm
Friday 24th
DC Are 43 Hit and Run competition: 11am – 4pm
Market day in Meribel centre
♫Live Music♫
Lodge du Village: Electric Spank – 4pm
What's on this week in La Tania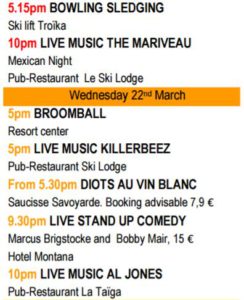 Last minute availability
Spring is now here and it would be rude not to treat yourself to a sunny holiday in the French Alps. Apres ski is in it's prime this time of year, with special gigs and events to keep you entertained. Ski all morning, have a late lunch on a sunny terrace then party until the sun sets with a mountain backdrop. Check out our latest offers for last minute chalet holidays in Meribel and La Tania: https://www.alpineaction.co.uk/special-offers-last-minute.htm