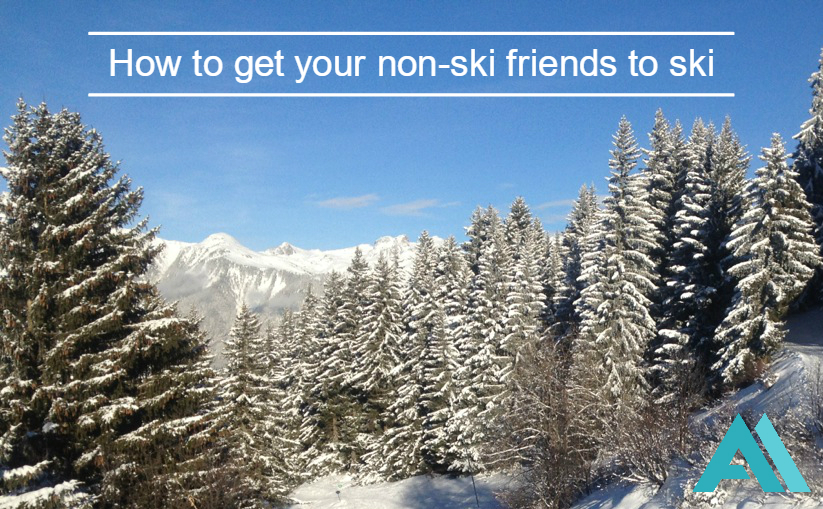 Convert your non-skiing friends! Send this post to them!
Skiing. It's not a closed-group thing, quite the opposite actually, but if you're a non skier it can be a little off putting coming into conversation with a bunch of regular skiers or snowboarders. "You've never been skiing? What do you mean you've never been skiing?!!" You end up either with the opinion that skiers are a bunch of incredulous idiots, or that skiing is actually worth a bash… perhaps you'll get round to it one day…
But there are many good reasons for this wall of disbelief! Skiing is a joy, a buzz, a real thrill, and these days it's nowhere near as pricey as it once was. So what do you mean you've never been skiing?!
1. Skiing is a wonderfully challenging and rewarding sport to undertake
Whether you're a complete beginner mastering the intricacies of the snowplough turn or a seasoned expert well used to high speeds and big air jumps, there's always somewhere to push yourself to improve. In Europe, for instance, the pistes are divided up into four colours representing their gradient; green, blue, red and black. The sense of satisfaction you experience when graduating to steeper terrain as you progress in the sport is fantastic, and really spurs you on to improve further. Equally for more advanced skiers, the buzz of landing a new jump or discovering and nailing a fresh powder field never really wears off.
2. The Great Outdoors!
The special blend of clean, fresh air and magnificent Alpine peaks is a massive draw. Ski resorts today are mountain playgrounds and it's easy to forget how remote you actually are. But stop and think – two thousand metres up with crisp white snow all around – these are scenes of rare beauty! Drink it in!
3. Wonderfully hobby
Gathering a group of like minded friends for a week of challenging skiing, boozy après ski and lively banter is what some of the best memories are made of! It's the joy of shared experiences… amazing fun with a group of mates. It's also a great way to widen the social circle, because organising a large group of skiers almost invariably involves fresh introductions at the start of the week. Before you know it, you're enjoying banter and laughs with friends old and new over a few refreshing après ski beers… joy!
4. Great travel opportunities 
It's an easily overlooked point, but skiing is also a great way to see parts of the world you'd never otherwise get to visit. Despite the British bars and boozy après ski which prevails in many resorts it's perfectly possible to step off the beaten track, make an effort with the lingo and enjoy genuine cultural enrichment. Of course, such experiences are perhaps more fulfilling in the smaller, traditional ski resorts… Woe betide the poor sap who tries to order une grande biere s'il vous plait in Jack's Bar. But there are myriad chocolatiers, patissiers and the like in resorts across Europe who would welcome your efforts. And quite apart from any linguistic foray you may make, exploring ski resorts in different countries is also a great way to try new cuisine. Savoyarde specialities such as tartiflette and foldue are well known classics, but there are plenty more where they came from.
In short, not only is skiing a fantastically challenging and rewarding pursuit, but it's also amazing fun! Push your boundaries and test your mettle in spectacular scenery, live to tell the tale then gather the gang, save a few quid up and do it all again next winter!
Click here to look at our ski holidays to Meribel & La Tania