La Tania A to Z
A is for Alpine Action – La Tania is our spiritual home. We have a great selection of chalets here, all with piste side access.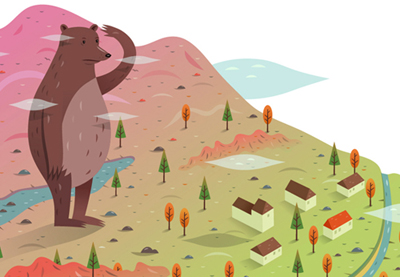 B is For Bear – Up to the early 1900's bears roamed the woods surrounding the resort. Sadly they were driven out by us humans.
C is for Courchevel – Courchevel is La Tania's big sister. This doesn't mean that she is better. As Courchevel attracts more international Billionaires, prices for everything goes up. But La Tania remains more  affordable for those of us that aren't billionaires.
D is for Deckchair – When the sun comes out La Tania is perfectly placed to catch it. So get yourself on one of the many deckchairs and work on those goggle marks.
E is for Euro – The standard British test of how expensive a place is the pint test. A pint in La Tania costs €5.50.
F is for Facebook – Keep up to date with the official La Tania Facebook page.
G is for Gatwick – All our holidays include flights from Gatwick. We can also get you to La Tania from Manchester too.
H is for Happy Hour -While we base our economic judgment on the cost of a pint. We also need to consider the Happy Hour price. In La Tania it is a very happy €3.
I is for Itinerary – Itinerary is a piste that isn't groomed. Courchevel is home to one of the most popular, the Grand
Couloir.
J is for Journalist – La Tania grew into the resorts it is today thanks to the Albertville Winter Olympics. The resort was expanded to accommodate reporters.
K is for KM – La Tania is part of the Three Valleys giving you over 600km of piste to choose from.
L is for Listen – When in resort tune into R' Courchevel 93.2 fm they have weather forecasts and news in English during the morning.
M is for Magic in Motion – A growing independent ski school that comes highly recommended. The children's lessons are particularly fun.
N is for Navette – Don't feel that you need to miss out on the evening fun in nearby Courchevel. There is a free bus that runs between the two resorts until midnight.
O is for Olympic Legacy – The region won't let you forget that it hosted the Winter Olympics, so why not check out the Olympic landmarks in nearby La Praz and Meribel.
P is for Poor Visibility – Flat light is not a problem for La Tania guest as many of the runs into resort are tree lined. Also if you do ski through the trees  you don't need to be worried about bears.
Q is for Quaint – This is a word that regularly pops up when you ask someone to describe La Tania.
R is for Real Ale – Skiing is intrinsically a geeky sport and all geeks love Real Ale. So if you head to the hotel Telemark you will be able to bore each other with your ski knowledge over a pint of Real Ale, bliss.
S is for Sisters – 'Bring Your Sisters' is a popular apres ski band that you will be able to catch in La Tania. Sing, dance and enjoy.
T is for Traffic – Or lack of it. La Tania is a traffic free haven.
U is for Unbelievable – It is unbelievable how much fun you will have in La Tania.
V is for Vin Chaud – Le Bouc Blanc in La Tania  is a great place to get one.
W is for WiFi – It is free in all our chalets, so you can always read the Alpine Action Blog.
X is for X-ray – We hope you won't need one.
Y is for Yummy – This is how we feel about the Gourmet Burgers at the Ski Lodge in La Tania.
Z is for Zoo – Back in 1967 La Tania was a zoo for alpine animals, it was bulldozed over when it started losing money as a result of its prized unicorn being murdered by a rouge Marmot.