It is sad to say this is the final weekly snow report and events for Alpine Action Winter Ski Season 2016/17. The 3 Valleys teams have really worked their magic this season ensuring it is the BEST ski area in Europe. Their commitment to having more lifts and runs open than any other resort has delivered and even as we approach the end of very warm and sunny Spring like conditions, they continue to ensure we can access the best snow high up the mountain.
New additions to the 3 Valleys have made it not only the best place to ski but the best place to be!
Some of the more noticeable highlights have been; luxury picnic areas, wifi hot spots, selfie spots with the most amazing back drops, increased liberty free ride areas (allowing you a taste of off-piste skiing in a safe controlled area), amazing Snow park set ups attracting world famous freestyle Olympians and teams. Events such as; the Aerosnow show in Meribel, the Alpine Skiing Europa Cup, torch lit decent's by local ski schools during school holidays, mega firework displays in Courchevel, ice car racing in Val Thorens, the piste bash festival in Meribel (music and comedy in the mountains) and Champagne Yoga brunches at La Folie Douce. If that wasn't enough after being released back into the Alps over 10 years ago we are finally starting to see signs of European wolves living free in their natural habitat.
The season isn't over yet, the next two weeks see skiing in Spring-like conditions, long lunches at sunny mountain restaurants and the annual Meribel Village Charity Day party. Head down to Meirbel Village on Wednesday afternoon and see an incredible line up of local and guest bands/DJ's playing, hosted by Radio 1's Jo Whiley.
The weather forecast this week is mainly sunny with some clouds today and Wednesday morning. The forecast for next week, will start of bright and sunny with some light snow showers Monday to Thursday with sunshine for the remainder of the week.
All 3 Valley links will remain open and the majority of pistes. Routes down to Meribel centre will be shut, but lifts will remain open to allow you access back down to the main lift area "La Chaudanne". For lift and run openings check out this link and scroll down, to see live information: http://www.meribel.net/infos-pistes.html
Temperatures are staying mild with highs of 14 degrees and lows of 1 degree. The coldest wind chill is forecast at -3, freezing level is at 2700m for perfectly groomed pistes first thing in the morning!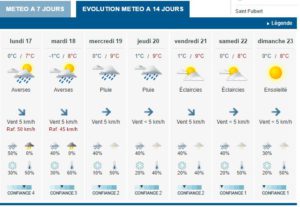 The Meribel valley currently has a reading of 14cm of snow at resort level (1450m) and 157cm at Altitude (2700m).
The Courchevel valley currently has a reading of 73cm at resort level (1850m) and 163cm at Altitude (2700m).
Avalanche risk is 2 out of 5 today.
We want to keep you up to date with weekly events and happenings in the 3 valleys so here are some of the best bits to get you in the winter holiday spirit…
What's on this week in Meribel
Monday 10th
Himalaya by night: night sledging 5:30pm – 7:30pm Meribel Mottaret

Tuesday 11th
Market day in Meribel centre.

Wednesday 12th
Ice Hockey at the Olympic Centre: 8:15-11pm
CHARITY DAY♫

Thursday 13th
Himalaya by night: night sledging 5:30pm – 7:30pm Meribel Mottaret

Friday 14th
Market day in Meribel centre

What's on this week in La Tania
Availability
If all of this has got you yearning for your next ski holiday, get ahead of the game and give our office a call today. Reserve your week in one of our fabulous chalet for next season 2017/18.    www.alpineaction.co.uk